Most of the extinctions were caused by deforestation in South America, a new study of endangered birds shows
"People think of extinctions and think of the dodo but our analysis shows that extinctions are continuing and accelerating today," he said. "Historically 90% of bird extinctions have been small populations on remote islands. Our evidence shows there is a growing wave of extinctions washing over the continent driven by habitat loss from unsustainable agriculture, drainage and logging."
More than 26,000 of the world's species are now threatened, according to the latest "red list" assessment, with scientists warning that humans are driving a sixth great extinction event.
Four of the eight newly identified bird extinctions took place in Brazil, once home to Spix's macaw. The attractive parrot was caged and traded for 150 years before any wild populations were discovered but in 1985, three birds were found in a Brazilian forest. Two were illegally captured for the pet trade, and attempts to breed the final male were unsuccessful. A 2016 sighting in the wild is now thought to have been an escaped caged bird, leaving the last known sighting in 2000.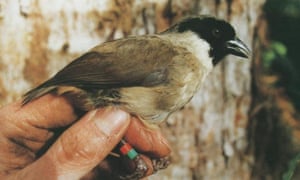 While captive populations of Spix's macaw are being bred for reintroduction into restored woodland habitat there is no second chance for the poo-uli, the cryptic treehunter and the Alagoas foliage-gleaner: they have disappeared from the skies forever.
Article originally posted by theguardian.