Death toll expected to reach into the thousands after tsunami hit Palu and Donggala on island of Sulawesi
Authorities in Indonesia have begun mass burials for victims of the earthquake and tsunami that hit the city of Palu, as relatives of the missing combed through body bags for their loved ones and the search for survivors intensified.
The death toll from the disaster rose only slightly on Monday, to 844, due to difficulties in reaching the areas worst affected by the quake, while the lack of heavy machinery made it difficult to retrieve corpses from the rubble. The casualties are still expected to reach into the thousands in the coming days.
At Poboya, in the hills above Palu, volunteers dug a 100-metre-long mass grave and began filling it with hundreds of bodies in bags. Instructions were given to prepare for up to 1,300 victims to be buried, in order to stave off the spread of disease.
More than 540 bodies were taken to the mass grave from one hospital alone.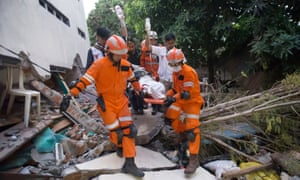 Willem Rampangilei, the head of the national disaster agency, said the mass burials "must be done as soon as possible for health and religious reasons".
The 7.5-magnitude quake struck on Friday, sparking a tsunami that ripped apart the coastline at Palu, on the island of Sulawesi. The quake struck as evening prayers were about to begin in the Muslim-majority country. A festival was also taking place on the beach in Palu.
Jan Gelfand, the head of the Red Cross office in Jakarta, said rescue teams were having to find "creative ways" to try to reach victims in remote areas. It had dispatched 25 water tankers to the coastal area, but she said this was "a drop in the bucket to what the need is".
"Our teams took 12 to 15 hours to get in and so it is going to be a while before even the assessment is done before we get a true picture of the situation," said Gelfand.
The disaster agency spokesman, Sutopo Purwo Nugroho, said conditions in the Petobo neighbourhood of Palu were particularly bad because the quake caused a phenomenon called liquefaction, when loose, water-filled soil near the surface loses its strength and collapses, causing all structures built on it to collapse. "There are still hundreds of victims buried in mud," Sutopo told reporters on Monday.
Rescuers were also struggling to reach Balaroa, where the earthquake has caused a housing estate, which was home to 900 people, to collapse and sink five metres into the ground. In the absence of rescue teams, locals were having to pull the dead bodies from the mud and a village civic leader, Rahmatsyah, said that "90-100 people have been confirmed dead, based on citizen reports".
He told MetroTV: "It is estimated that there are still many more victims. Hundreds and even thousands of people are buried in debris which we cannot lift."
Among those trapped in the ruins of the housing estate was 15-year-old Nurul Istikharah. Most of her body had been trapped in deep mud and concrete for 48 hours, with only her head visible. The body of her mother, Risni, who died in the collapse, was trapped next to her.
Yusuf, Nurul's father, has sat by her side since he found her alive. He told Tirto news website: "Everything went fast. The land collapsed instantly. I found my daughter was buried under the ruins and puddle."
On Sunday night, the Central Sulawesi administration declared a 14-day state of emergency. Sutopo said this would enable "both the regional and national government to mobilise personnel, logistics, equipment as well as money to fulfil the needs of the affected area and people."
Sutopo confirmed there would be no electricity in Palu and the nearby town of Donggala for at least another three days, while drinking water and fuel were running out. There was limited access to heavy equipment, so the search for people trapped in the rubble was mostly being carried out by hand.
Desperate survivors, now facing a third night sleeping outdoors, queued for fuel and food. There was some looting of shops. Thousands gathered at Palu airport in a desperate attempt to get a flight out. "We have not eaten for three days," one woman yelled. "We just want to be safe."
Sri Puguh Budi Utami, Indonesia's prisons chief, said that 1,425 inmates have escaped from jails which were damaged in the quake, including those from the Donggala detention centre which was set on fire and all 343 inmates are now on the run.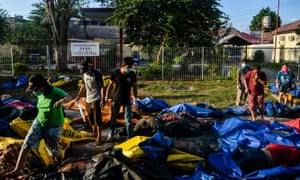 Indonesia's president, Joko Widodo, promised more supplies. "We will send as much food as possible with Hercules aircraft, there are several aircraft carrying food from Jakarta," he said on Monday. "We also expect fuel supplies to enter Palu."
Since you're here…
… we have a small favour to ask. More people are reading the Guardian's independent, investigative journalism than ever but advertising revenues across the media are falling fast. And unlike many news organisations, we haven't put up a paywall – we want to keep our reporting as open as we can. So you can see why we need to ask for your help. We do it because we believe our perspective matters – because it might well be your perspective, too.
The Guardian is editorially independent, meaning we set our own agenda. Our journalism is free from commercial bias and not influenced by billionaire owners, politicians or shareholders. No one edits our Editor. No one steers our opinion. This is important because it enables us to give a voice to the voiceless, challenge the powerful and hold them to account. It's what makes us different to so many others in the media, at a time when factual, honest reporting is critical.
If everyone who reads our reporting, who likes it, helps to support it, our future would be much more secure. For as little as $1, you can support the Guardian – and it only takes a minute. Thank you.
Article originally posted by theguardian.