Julen Lopetegui's reign may have been the chronicle of failure foretold; what few imagined was that it would unfold so quickly
Monday is Lopetegui's 131st day as manager of Madrid. It may also be his last. Maybe not today, maybe not tomorrow but one day and soon, he will be sacked. The same lack of alternatives and time that helped put him in the job are all that keep him in it. It's not easy to find the man to replace him or the moment to do it: Madrid play in the Champions League on Tuesday; on Sunday they face Barcelona. That match – the first clásico without Messi or Ronaldo for a decade – becomes even more of a defining moment than usual, a reason both to wait and to act: in some odd way, the only thing as bad as losing to Barcelona is beating them with Lopetegui still there. Let the clásico decide, sure, but what if it decides the wrong thing?
So, let's just check … yep, still there. Or maybe not by the time you read this. But for now there he is, leading training in the sunshine, even though he knows Madrid have suspected he was the wrong man for a while and became even more convinced this weekend – it's not just that faith is lost, and with remarkable speed, that's a recurring problem; it's that the lack of faith is shared, conveyed through public voices, increasing the pressure and widening fault lines; that preferences are pushed and players are swiftly aware, losing faith as he loses authority.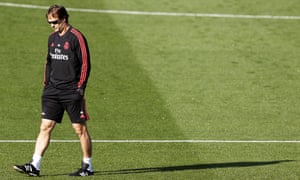 There's another, fundamental reason. Foundational, in fact: there wasn't that much faith to start with. And since then the accusations against Lopetegui have accumulated, some familiar themes: he didn't play 18-year-old Vinícius Júnior; he was indulgent of a squad some in power mistrust, Sergio Ramos particularly; the team are not in great physical condition; he has rotated Keylor Navas and Thibaut Courtois; and failed to define a starting XI. Saturday's team – no Bale, Benzema, or Kroos, Vinícius not in the squad – was especially striking, like the last gesture of a condemned man. On the touchline in Vitoria he ranted, wild as his team lost to Alavés; this time he seemed resigned to it. Only there he is now, saying he will "fight".
It's only nine weeks into the season but the regret at some levels of the club now is having waited this long. Meanwhile, names continue to emerge – it's a fortnight since Antonio Conte was called. He has a court case with Chelsea pending, and soon. Persuading Zinedine Zidane to return is an idea some clung to; someone like him, from within, is another. Xabi Alonso and Raúl don't yet have the full qualifications, but could join an experienced coach. Santiago Solari, in charge at Castilla, does. Roberto Martínez, Michael Laudrup, Laurent Blanc, the list goes on.
The need grows more pressing, too. When Varane handled the ball the ball on Saturday, he requested the referee look again. VAR looked at the scene, not the crime, offering up a lesson that things can always get worse. Beaten in Seville, beaten in Moscow, beaten in Vitoria, they were beaten again by Levante. There's been an impotence about them, a fatalism that grows worse with each minute. When Marcelo scored it finally ended a wait that had felt eternal: it was their first goal for eight hours and one minute, supposedly the longest drought in their history until someone noticed one of the games during their previous "best" in 1985 had gone to extra-time.
This then, isn't the worst Madrid ever, after all. It's still bad, though. "This team is in ruins," ran the cover of Marca on Sunday. AS called it a "total write-off". Marcelo's goal, 13 minutes short of that actual record, was their first in a month, and proved worthless. Defeated again, Madrid have lost three in a row and four of their last five – and they didn't win the fifth, a 0-0 draw with Atlético. Even the game before that run, their 1-0 win over Espanyol, hadn't impressed. The one before that, by contrast, really had: their 3-0 win over Roma suggested a new identity could be forged, only to be quickly forgotten. Lopetegui has lost as many competitive games as he has won. He has five defeats in his 12 games.
| FULL TIME |

That makes 3 defeats in the last 4 league games for #RealMadrid and the 2nd time in HISTORY that #Levante has won at the Bernabéu 🏟

Real Madrid 1-2 Levante ⚽#RealMadridLevante #PureFootball pic.twitter.com/Gi7isFh5Oo

— Eleven Sports (@ElevenSports_UK) October 20, 2018
A post-World Cup season often poses extra problems. Lopetegui did not get the players he wanted: there was no replacement for Mateo Kovacic or Cristiano Ronaldo, whose importance may even have been underestimated. There have been injuries. With Neymar the only player they were prepared to spend big on and the realities of the market shifting, the squad has got weaker over the last three years – even if it is certainly strong enough to be better than this. This season has been bad, but it's not so out of keeping with last season, when they finished 17 points behind Barcelona. At this point last year, they had been beaten by Betis and held by Valencia and Levante; in week 10 Girona beat them. Barcelona won the clásico 3-0.
Lopetegui has talked about "a culmination of misfortune". There may be something in that even if it doesn't entirely convince and his Madrid career was born under a bad sign, that's for sure. This goes back to the beginning, and beyond – the inception of it all. That everything has happened quickly shouldn't hide the fact that it runs deep.
Life comes at you fast. Seconds after Madrid won their third consecutive European Cup, before they'd even collected the trophy, Ronaldo said he was going. A few minutes later, Gareth Bale said he might too. Before either of them actually had, Zidane did. Five days after Kiev, he resigned. He knew there were problems, knew that this was unsustainable. Ronaldo did leave, taking more than goals with him.