Rescuers race against time in remote town in Philippines after massive landslide
Rescuers used shovels and their bare hands to claw through mounds of rocky soil on Monday. Hundreds of rescuers in rows formed a human chain to pass rocks, debris and tree trunks out of the search area.
The massive landslide left a gaping gash in the hillside that was studded with small homes topped with rusting metals roofs. With damaged roads preventing the entry of heavy equipment, soldiers, police and miners used shovels to channel water from a nearby stream to loosen the earth.
It was excruciatingly slow work, as anguished relatives watched and waited for word on their missing loved ones. Recovered bodies were draped in fabric and lined up in a row at a makeshift tent on a road above the bunkhouse.
There have been mixed reports about the exact body count. At least 34 people are confirmed dead, according to the Philippine defence secretary, Delfin Lorenzana. He said at least 30 people were still missing, adding that rescue teams were working "as fast as they can" and that there might still be survivors.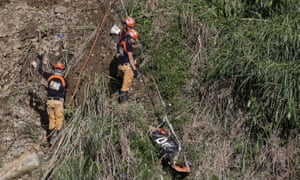 But according to the presidential spokesman, Harry Roque, at least 43 bodies have been pulled from the mud.
Ricardo Jalad, the Philippines civil defence chief, said rescuers were racing to try to find survivors in the mud. The military and police were being supported by rescue teams, engineers and geologists, he said.
The environment secretary, Roy Cimatu, flew to the area on Monday to investigate what had happened. "We will not stop until we will recover [people] – whether they are still alive – in the mining area in the place of that incident," he said.
The mayor of Itogon, Victorio Palangdan, said the police had tried to make the miners – who were working on the disused goldmine illegally – leave the bunkhouse before the typhoon hit, but they had refused. "They thought they were really safe there," the mayor said on Sunday. On Monday he told reporters: "We believe that those people there, maybe 99%, are already dead."
At least 64 people have been confirmed dead across the Philippines, with the death toll expected to rise, and an estimated 5.7 million people in the country are thought to have been affected by the storm. The livelihoods of thousands has been devastated as crops were flooded just a few weeks before the harvest.
The storm hit the densely populated southern coast of China on Sunday night. More than 2.4 million people were evacuated, and four have died, according to Chinese state media. The storm is now headed for Yunnan province, a popular tourist area.
The Hong Kong Observatory said Mangkhut was the most powerful cyclone to hit the city since 1979.
Agence France-Presse contributed to this report
Article originally posted by theguardian.